Anyes Galleani accepts commission to create custom art, this includes:
•Creating new images for fine art or commercial use
•Creating new mixed media paintings based on her images
•Creating a portrait or cityscape based on provided or found photos*
•Making a painting similar to one that has already sold, possibly in a different size**

*Provided/found photos need to meet certain criteria and will be combined with Anyes' design
**Anyes only makes up to 3 similar paintings based on the same image
Custom art is easy to order, ships within 2 to 4 weeks and is priced similarly to regular art.

For a free consultation with the artist or to place an order
call/text 213-537-0759 or email studio@galleani.com

Over the years, Anyes has given dozens of art buyers the opportunity to order custom art that complements their space perfectly, enriching their daily life, sparking conversation and leaving a lasting impression on their guests.

TESTIMONIALS

"It was extremely easy to work with Anyes from coordinating times to meet to picking out exactly what we wanted from our piece.

She was also kind enough to come hang it up in our home. We appreciated her professional opinion in helping us create this beautiful piece for our dining area and so happy we trusted in her.

We absolutely love looking at it every day and it really has completed our room. I would purchase from her again - just need a bigger house for more wall space!"
Ayal & Rebecca B.  Los Angeles

"I saw the painting "Judgement" at one of Anyes' shows and loved it, but it was too big for my corridor wall, so she offered to make me a smaller version, which she delivered a few days later. Judgement II looks great in my home! Interestingly, before making the art, Anyes asked me about the colors and finishes in my home to make sure the painting edges and overall nuances complemented them.

I since ordered two more pieces for my living room. I chose the images from Anyes' website, told her the sizes I needed the paintings to be and within a couple of weeks they were ready.

Being able to order custom-size original art has made decorating my new house a much easier process and I am very happy with the results."
Fred E.  Los Angeles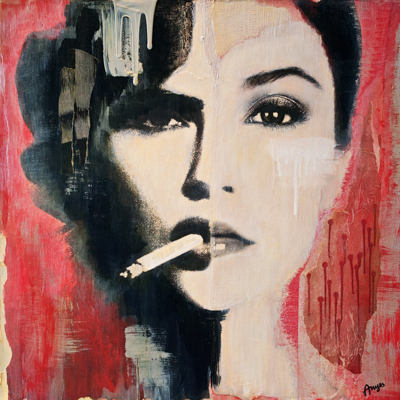 Judgement II 24x24". This painting has warmer tones than the original to complement the furniture and finishes in the client's home.

For a free consultation with the artist or to place an order
call/text 213-537-0759 or email studio@galleani.com

Sign up for occasional emails about new work and show openings.